Sao Tome and Principe flag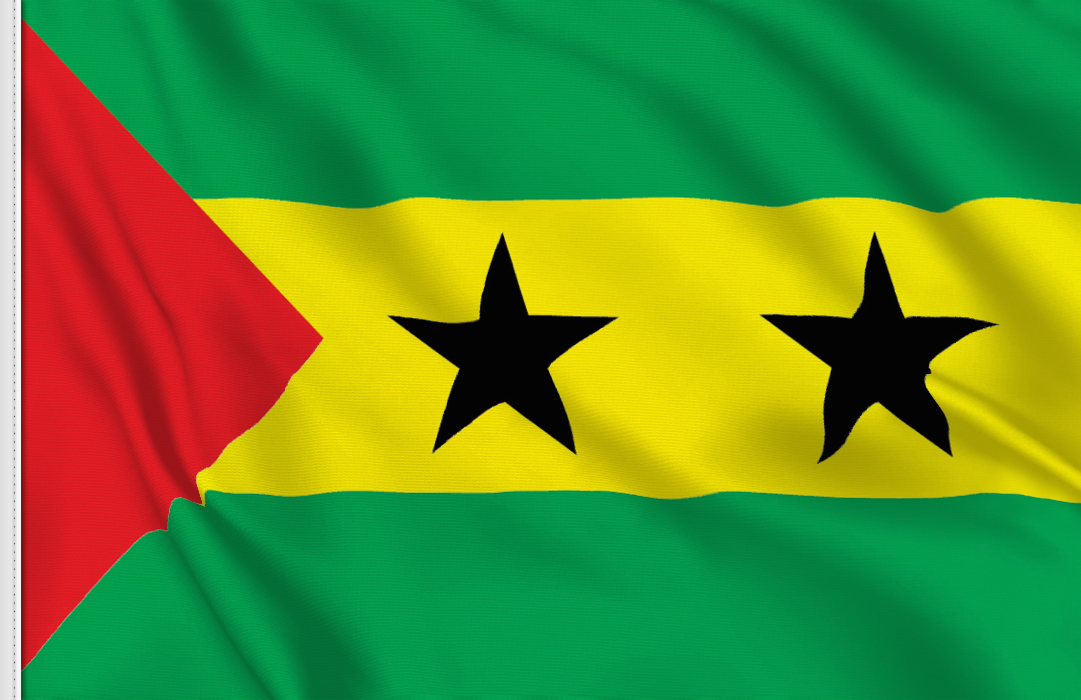 Buy the flag
Description
The flag of São Tomé e Príncipe was adopted in 1975. The panafrican colors (green, yellow and red) were used by the Liberation Movement. The flag presents a red triangle and three horizontal bands: two green and one yellow. In the yellow band there are two stars, i.e. the two Islands of the Country.
Available versions of the flag of Sao Tome
100% nautical polyester flags
Sao Tome and Principe flag in 100% nautical polyester - HIGH QUALITY FLAG
| | | | |
| --- | --- | --- | --- |
| Sao Tome Flag | Size | Q.ty | Unit Price |
Flag stickers
Sao Tome and Principe flags stickers, click the following link to buy flag stickers
| | | | | |
| --- | --- | --- | --- | --- |
| Flag stickers | Pack of | Size | Q.ty (Pack) | Unit Price |
P.S. - Hershey (PA) USA (rate: 4/5)
I want to graciously thank you for the prompt and accurate delivery of the flag for my husband this Christmas. You were all so helpful to me and your service is fantastic! He is going to be so happy with his Christmas present. Thank you again! Sincerely.
B.L. - Jakarta Indonesia (rate: 4/5)
It's my first time buy from flagsonline. The order needed few days because my order is not in their stock. There was some trouble in the shipment concerning the my local post office but Flagsonline team especially Alessandro helped me always. And when I received it.... Wow it is worth to be waited.. The flag with its materials is superb..
Krishna Man Shrestha - Katmandu Nepal (rate: 5/5)
I have purchased several times and I have always been satisfied by the professionalism and high standard quality of the flags received.
The flag of São Tomé e Príncipe was adopted in 1975. The panafrican colors (green, yellow and red) were used by the Liberation Movement. The flag presents a red triangle and three horizontal bands: two green and one yellow. In the yellow band there are two stars, i.e. the two Islands of the Country. Formal Country Name: Democratic Republic of Sao Tome and Principe
Local Country Name: São Tomé e Príncipe
Capital City of B: Sao Tome
Population of B: 181,565
Territory: 1,001 sq km

B flag on sale, Flagsonline presents the Sao Tome and Principe flag, buy now the flag of Sao Tome