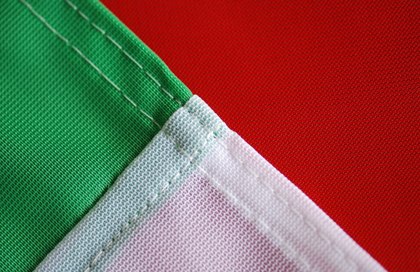 Bandiere.it produces its flags taking care of all stages of production in every detail, from the choice of the best raw materials (fabrics, yarns, reinforcements) to the tailoring stage where the flags are packaged.
We offer the consultancy service on the most suitable fabrics for the environment in which the flag will be displayed and customized finishing solutions on the specific needs of the client.
We can also make a single customized sample in nautical polyester or in stamina without manufacturing costs. Our consultants can make, on request, the vector file of the logo or drawing that you want to print.
100% NAUTICAL POLYESTER
Peso (1 square meter.):
110 grams
Size alteration @ 40°C (+/- 5%):
2
Rupture resistance (+/- 5%):
65
Hem jerk resistance (+/- 5%):
1.9
Colour stability to: Washing @ 40°C
5
Colour stability to: Water
5
Colour stability to: Acid Substances
5
Colour stability to: Alkaline Substances
5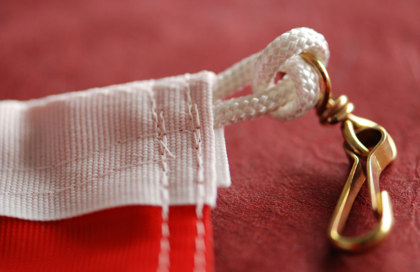 We choose materials that last over time: the ropes of our flags are the best on the market and our steel carabiners are much more elegant and resistant than plastic ones. the temperature at which the fabrics are subjected during the printing phase guarantee perfect color brilliance and a duration of exposure to sunlight that does not fear comparison with other products on the market.

Bandiere.it for 15 years we sell and produce flags.