Mediterranean flag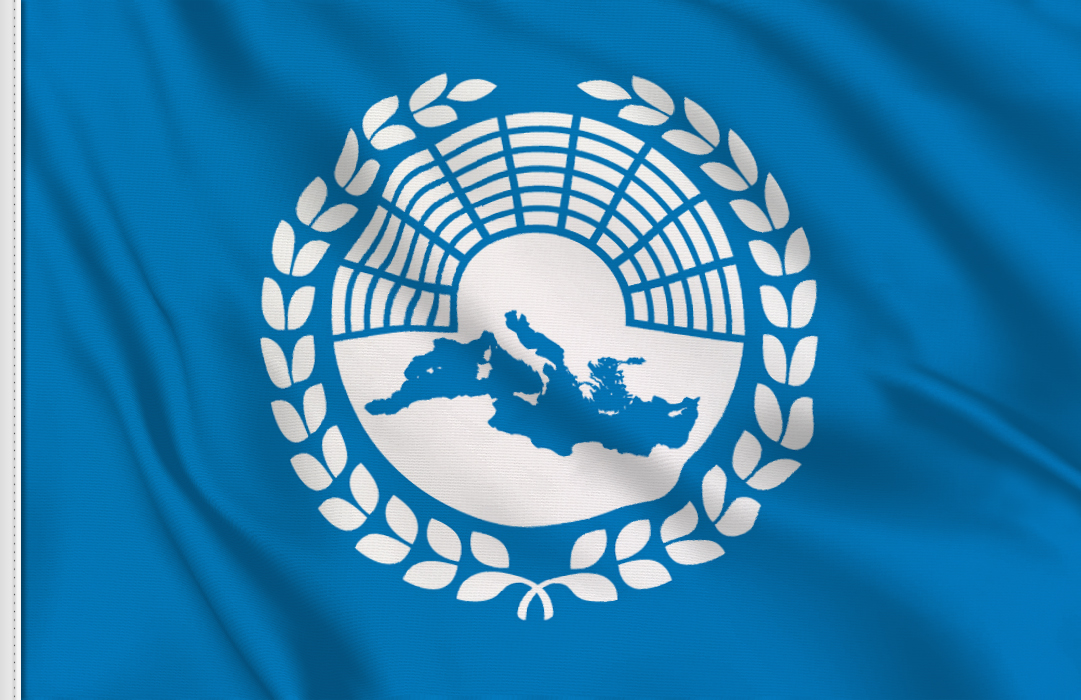 Buy the flag
Description
The official flag of the Parliamentary Assembly of the Mediterranean. The PAM or Parliamentary Assembly of the Mediterranean is an Organisation established with the aim of bringing together all the littoral States of the Mediterranean on an equal footing under a unique forum of their own, to examine questions and take decisions on issues of direct interest to the countries of the region. It has its General Secretariat headquarters in Malta which took up office in September 2007. The Parliamentary Assembly of the Mediterranean is composed by the following countries: Albania, Algeria, Bosnia-Herzegovina, Croatia, Cyprus, Egypt, France, Former Yugoslav Republic of Macedonia, Greece, Israel, Italy, Jordan, Lebanon, Libyan Arab Jamahiriya, Malta, Monaco,Montenegro, Morocco, Palestine, Portugal, Serbia, Slovenia, Syria, Tunisia and Turkey. Flagsonline has been authorized to sell this flag online.
Available versions of the flag of Parliamentary Assembly Mediterran
100% nautical polyester flags
Mediterranean flag in 100% nautical polyester - HIGH QUALITY FLAG
| | | | |
| --- | --- | --- | --- |
| Parliamentary Assembly Mediterran Flag | Size | Q.ty | Unit Price |
P.S. - Hershey (PA) USA (rate: 4/5)
I want to graciously thank you for the prompt and accurate delivery of the flag for my husband this Christmas. You were all so helpful to me and your service is fantastic! He is going to be so happy with his Christmas present. Thank you again! Sincerely.
J-Emmanuel Brethomé - Beaulieu-Sous-La-Roche Francia (rate: 5/5)
Thanks to Flagsonline for helping me to build the beautiful northern Vendée flag. The flags have a great standard quality. I recommend this company.
K.R. - Liverpool UK (rate: 5/5)
Flag arrived safely today, many thanks for your excellent service.
People interested in K flag have also bought
The official flag of the Parliamentary Assembly of the Mediterranean. The PAM or Parliamentary Assembly of the Mediterranean is an Organisation established with the aim of bringing together all the littoral States of the Mediterranean on an equal footing under a unique forum of their own, to examine questions and take decisions on issues of direct interest to the countries of the region. It has its General Secretariat headquarters in Malta which took up office in September 2007. The Parliamentary Assembly of the Mediterranean is composed by the following countries: Albania, Algeria, Bosnia-Herzegovina, Croatia, Cyprus, Egypt, France, Former Yugoslav Republic of Macedonia, Greece, Israel, Italy, Jordan, Lebanon, Libyan Arab Jamahiriya, Malta, Monaco,Montenegro, Morocco, Palestine, Portugal, Serbia, Slovenia, Syria, Tunisia and Turkey. Flagsonline has been authorized to sell this flag online. Formal Country Name: Parliamentary Assembly of the Mediterranean
Local Country Name: Parliamentary Assembly of the Mediterranean
Capital City of K: Valletta
Population of K: -
Territory: -

K flag on sale, Flagsonline presents the Mediterranean flag, buy now the flag of Assemblea Parlamentare Mediterraneo