Mexican flag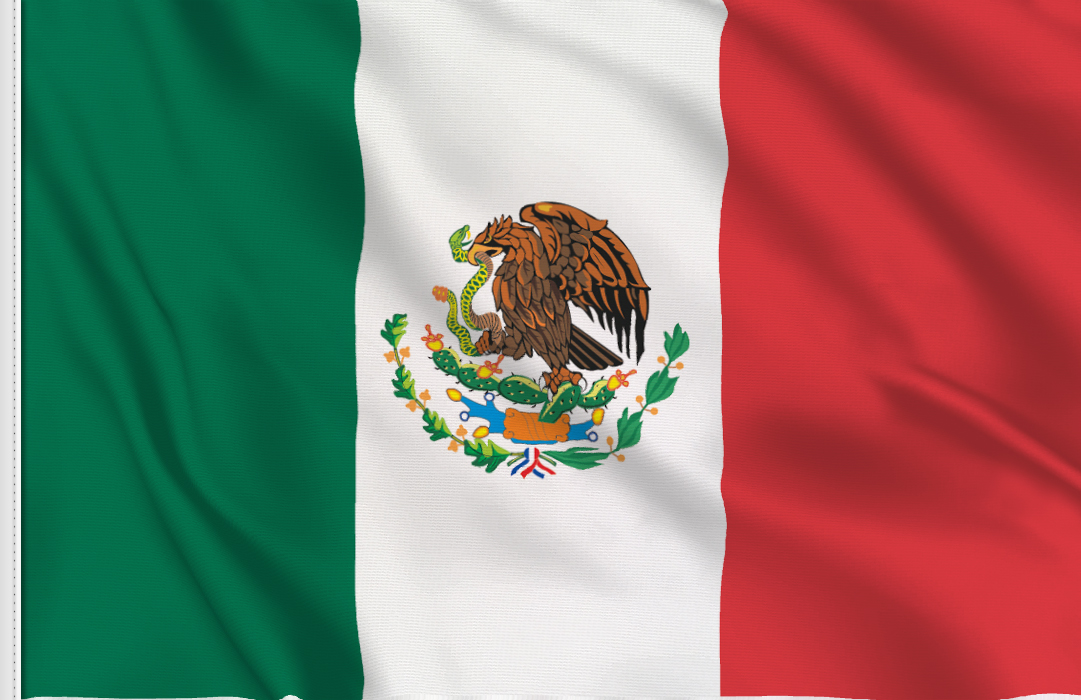 Buy the flag
Description
The flag of Mexico was adopted in the 1821. The basic design is taken from the French Tricolor flag and the red, white and green are the colors of the national liberation army of Mexico (it's similar to the historyof italian flag). The coat of arms (centered) in the white band is the badge of Mexico City, the country's capital. There is an eagle, and it is said that an Aztec legend told them to build their new city on the exact spot where they saw an eagle sitting on a cactus, eating a snake (legend said that Aztec arrived in Mexico City and found snakes that they liked to eat and considere sacred).
Available versions of the flag of Mexico
100% nautical polyester flags
Mexican flag in 100% nautical polyester - HIGH QUALITY FLAG
| | | | |
| --- | --- | --- | --- |
| Mexico Flag | Size | Q.ty | Unit Price |
Flag stickers
Mexican flags stickers, click the following link to buy flag stickers
| | | | | |
| --- | --- | --- | --- | --- |
| Flag stickers | Pack of | Size | Q.ty (Pack) | Unit Price |
Y.G. - La Chaux de Fonds Svizzera (rate: 5/5)
Hello, We received the flag and its accessories. We are delighted with your service. Best regards.
P.S. - Melbourne Australia (rate: 4/5)
Dears,The flag has arrived safely in Melbourne (6 days!) – in good time for our UNICEF event on Sunday ! Thanks very much for your help! Best wishes. P.S. It is a very good quality flag!
J-Emmanuel Brethomé - Beaulieu-Sous-La-Roche Francia (rate: 5/5)
Thanks to Flagsonline for helping me to build the beautiful northern Vendée flag. The flags have a great standard quality. I recommend this company.
People interested in P flag have also bought
The flag of Mexico was adopted in the 1821. The basic design is taken from the French Tricolor flag and the red, white and green are the colors of the national liberation army of Mexico (it's similar to the historyof italian flag). The coat of arms (centered) in the white band is the badge of Mexico City, the country's capital. There is an eagle, and it is said that an Aztec legend told them to build their new city on the exact spot where they saw an eagle sitting on a cactus, eating a snake (legend said that Aztec arrived in Mexico City and found snakes that they liked to eat and considere sacred). Formal Country Name: United Mexican States
Local Country Name: Estados Unidos Mexicanos
Capital City of P: Mexico (D.F.)
Population of P: 103,400,165,774
Territory: 1,972,550 sq km

P flag on sale, Flagsonline presents the Mexican flag, buy now the flag of Messico