Danish flag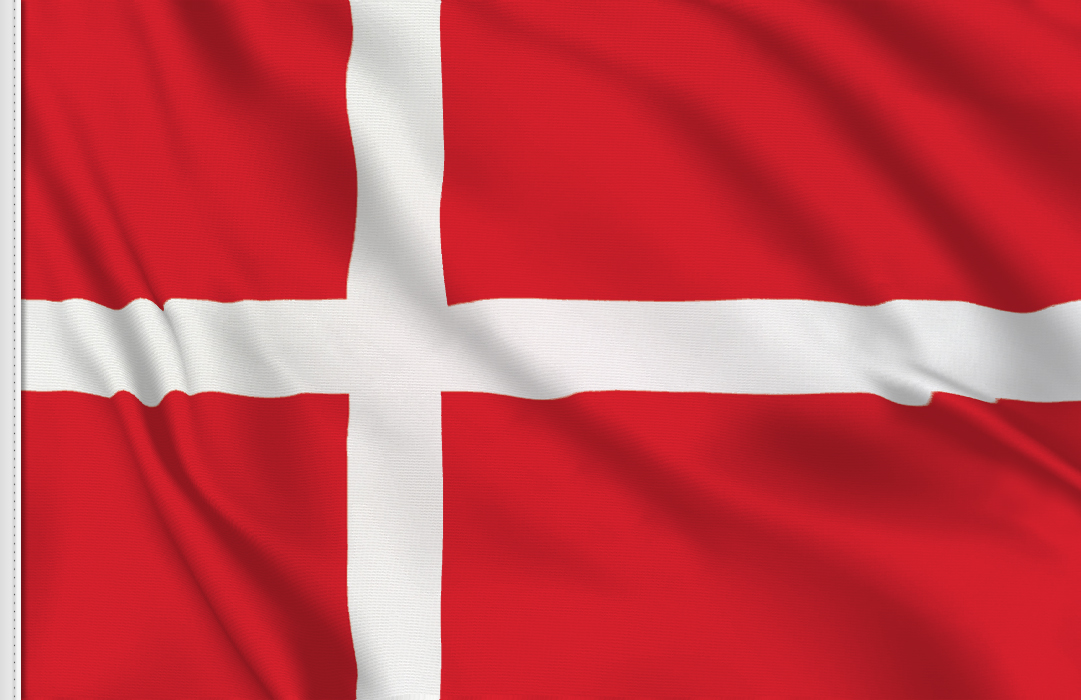 Buy the flag
Description
Denmark is Europe's oldest kingdom and its flag - the oldest European flag - was officially adopted in 1625. The flag is known as the Dannebrog, or Danish Cloth, and legend has it that this blood-red flag with a white cross appeared as a sign from heaven to King Valdemar II in 1218. The official ratio is 28:37, while the red color should be pantone 185c (for "land" use) and 195c (for naval use).
Available versions of the flag of Denmark
100% nautical polyester flags
Danish flag in 100% nautical polyester - HIGH QUALITY FLAG
| | | | |
| --- | --- | --- | --- |
| Denmark Flag | Size | Q.ty | Unit Price |
Flag stickers
Danish flags stickers, click the following link to buy flag stickers
| | | | | |
| --- | --- | --- | --- | --- |
| Flag stickers | Pack of | Size | Q.ty (Pack) | Unit Price |
J-Emmanuel Brethomé - Beaulieu-Sous-La-Roche Francia (rate: 5/5)
Thanks to Flagsonline for helping me to build the beautiful northern Vendée flag. The flags have a great standard quality. I recommend this company.
P.S. - Hershey (PA) USA (rate: 4/5)
I want to graciously thank you for the prompt and accurate delivery of the flag for my husband this Christmas. You were all so helpful to me and your service is fantastic! He is going to be so happy with his Christmas present. Thank you again! Sincerely.
Albatros LTD - marine products - Piraeus Grecia (rate: 4/5)
Flagsonline is the best flag company we have worked with!! Flags' quality and pricing is excellent. Quick response and shipping is also a very valuable feature of your highly estimed company. Thank you very much for the support.
Denmark is Europe's oldest kingdom and its flag - the oldest European flag - was officially adopted in 1625. The flag is known as the Dannebrog, or Danish Cloth, and legend has it that this blood-red flag with a white cross appeared as a sign from heaven to King Valdemar II in 1218. The official ratio is 28:37, while the red color should be pantone 185c (for "land" use) and 195c (for naval use). Formal Country Name: Kingdom of Denmark
Local Country Name: Kongeriget Danmark
Capital City of P: Copenhagen
Population of P: 5,368,854
Territory: 43,094 sq km

P flag on sale, Flagsonline presents the Danish flag, buy now the flag of Danimarca