Japanese flag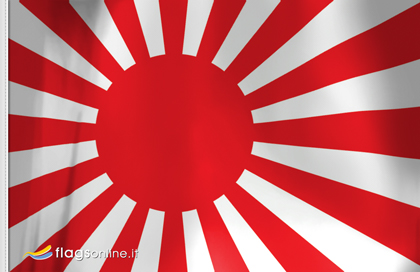 Buy the flag
Description
The Japan Navy flag reports the sun disc with 16 red rays. This flags was historically used by Japan's military, particularly the Imperial Japanese Navy. The ensign, known in Japanese as the Kyokujitsu-ki was first adopted as the naval ensign on October 7, 1889, and was used until the end of World War II in 1945. It was re-adopted on June 30, 1954, and is now used again as the naval ensign of the Japan Maritime Self-Defense Force.
Available versions of the flag of Japan-Navy
100% nautical polyester flags
Japanese flag in 100% nautical polyester - HIGH QUALITY FLAG
| | | | |
| --- | --- | --- | --- |
| Japan-Navy Flag | Size | Q.ty | Unit Price |
Flag stickers
Japanese flags stickers, click the following link to buy flag stickers
| | | | | |
| --- | --- | --- | --- | --- |
| Flag stickers | Pack of | Size | Q.ty (Pack) | Unit Price |
B.L. - Jakarta Indonesia (rate: 4/5)
It's my first time buy from flagsonline. The order needed few days because my order is not in their stock. There was some trouble in the shipment concerning the my local post office but Flagsonline team especially Alessandro helped me always. And when I received it.... Wow it is worth to be waited.. The flag with its materials is superb..
J-Emmanuel Brethomé - Beaulieu-Sous-La-Roche Francia (rate: 5/5)
Thanks to Flagsonline for helping me to build the beautiful northern Vendée flag. The flags have a great standard quality. I recommend this company.
P.S. - Hershey (PA) USA (rate: 4/5)
I want to graciously thank you for the prompt and accurate delivery of the flag for my husband this Christmas. You were all so helpful to me and your service is fantastic! He is going to be so happy with his Christmas present. Thank you again! Sincerely.
People interested in P flag have also bought
The Japan Navy flag reports the sun disc with 16 red rays. This flags was historically used by Japan's military, particularly the Imperial Japanese Navy. The ensign, known in Japanese as the Kyokujitsu-ki was first adopted as the naval ensign on October 7, 1889, and was used until the end of World War II in 1945. It was re-adopted on June 30, 1954, and is now used again as the naval ensign of the Japan Maritime Self-Defense Force. Formal Country Name: Japan
Local Country Name: Japan
Capital City of P: Tokyo
Population of P: 126,974,628
Territory: 377,835 sq km

P flag on sale, Flagsonline presents the Japanese flag, buy now the flag of Giappone-Marina