Istrian flag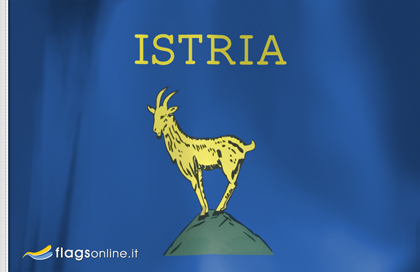 Buy the flag
Description
Official flag of Istria, a flag dear to the Istrian exiles. The flag back to the center Capretta, long ingrained emblem of Istria. The emblem on Roman origins but then received by the Habsburgs that determined the blue background.
Available versions of the flag of Istria
100% nautical polyester flags
Istrian flag in 100% nautical polyester - HIGH QUALITY FLAG
| | | | |
| --- | --- | --- | --- |
| Istria Flag | Size | Q.ty | Unit Price |
P.S. - Melbourne Australia (rate: 4/5)
Dears,The flag has arrived safely in Melbourne (6 days!) – in good time for our UNICEF event on Sunday ! Thanks very much for your help! Best wishes. P.S. It is a very good quality flag!
Embassy of Sudan in Netherlands - The Hague Olanda (rate: 4/5)
Hi, Sure I will think about you, cause you have almost the best flags in the world :-). Nice to hear from you Hope to keep in touch. Warmest regards
J.M. - Hong Kong SAR Hong Kong (rate: 4/5)
Dear Sirs, I have received my order, all in order, beautiful flag, thank you very much.
Official flag of Istria, a flag dear to the Istrian exiles. The flag back to the center Capretta, long ingrained emblem of Istria. The emblem on Roman origins but then received by the Habsburgs that determined the blue background. Formal Country Name: Istria
Local Country Name: Istria
Capital City of J: Pola
Population of J: -
Territory: -

J flag on sale, Flagsonline presents the Istrian flag, buy now the flag of Istria