San Sebastian flag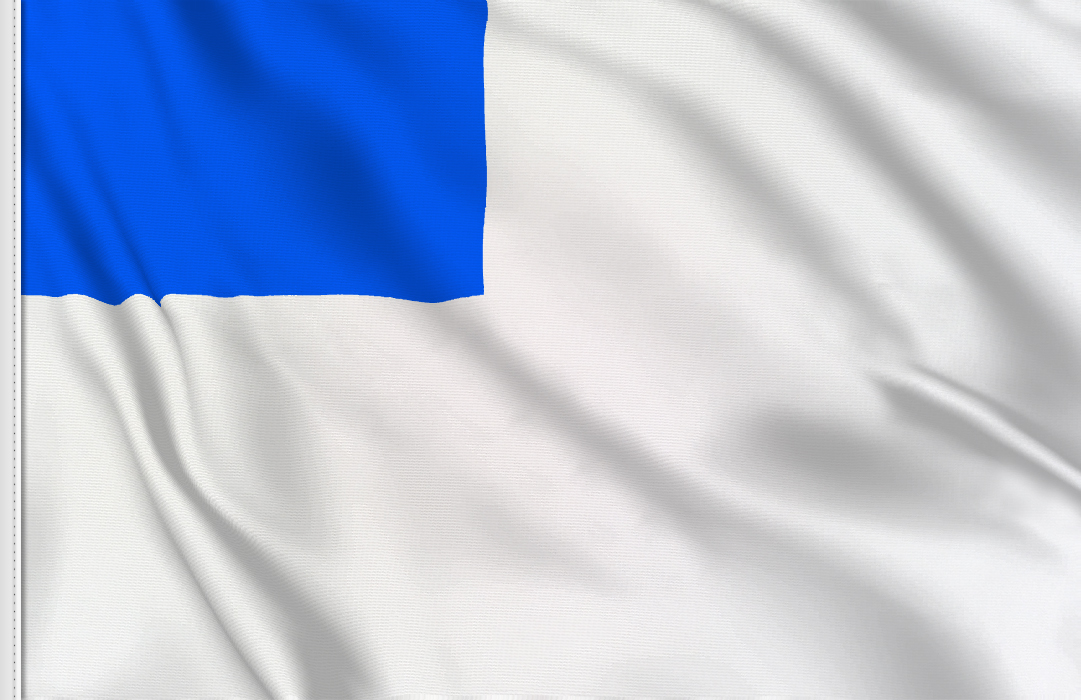 Buy the flag
Description
The official flag of the city of Donostia (San Sebastian), Basque Country. In 1659 it is documented that the colors blue and white were part of a flag assigned to San Sebastian and delivered to the winners of a race. At the beginning of the XIX century, a royal order in San Sebastian released a white flag with the blue die in the first canton to maritime vessels as a sign of its port, extending its use beyond the maritime sector. Despite this, the nineteenth century saw two different flags representing Donostia (one purple and one white with the red cross of St. Andrew). Only in 1997 the city of Donostia began a process to determine the flag officially to represent the city. In November 1998, the process culminated with the approval of the Provincial Council of Gipuzkoa and 20 January 1999 held its formalization in raising the new flag in the Constitution Square. The official flag of the features are: size of 1.60 to 2.50 meters (even if used in a confined assumes size 100x150 cm) white flag with a blue rectangle in the first canton of France, the rate of two-fifths of the height and then two the width of the flag.
Available versions of the flag of Donostia-San Sebastian
100% nautical polyester flags
San Sebastian flag in 100% nautical polyester - HIGH QUALITY FLAG
| | | | |
| --- | --- | --- | --- |
| Donostia-San Sebastian Flag | Size | Q.ty | Unit Price |
B.L. - Jakarta Indonesia (rate: 4/5)
It's my first time buy from flagsonline. The order needed few days because my order is not in their stock. There was some trouble in the shipment concerning the my local post office but Flagsonline team especially Alessandro helped me always. And when I received it.... Wow it is worth to be waited.. The flag with its materials is superb..
A.C. - Rochester (NY) USA (rate: 5/5)
Thank you for all your help in getting this order in place! The flags safely arrived yesterday ... and will be ready for the October 6 parade! Thank you for your assistance.
K.R. - Liverpool UK (rate: 5/5)
Flag arrived safely today, many thanks for your excellent service.
The official flag of the city of Donostia (San Sebastian), Basque Country. In 1659 it is documented that the colors blue and white were part of a flag assigned to San Sebastian and delivered to the winners of a race. At the beginning of the XIX century, a royal order in San Sebastian released a white flag with the blue die in the first canton to maritime vessels as a sign of its port, extending its use beyond the maritime sector. Despite this, the nineteenth century saw two different flags representing Donostia (one purple and one white with the red cross of St. Andrew). Only in 1997 the city of Donostia began a process to determine the flag officially to represent the city. In November 1998, the process culminated with the approval of the Provincial Council of Gipuzkoa and 20 January 1999 held its formalization in raising the new flag in the Constitution Square. The official flag of the features are: size of 1.60 to 2.50 meters (even if used in a confined assumes size 100x150 cm) white flag with a blue rectangle in the first canton of France, the rate of two-fifths of the height and then two the width of the flag. Formal Country Name: Donostia-San Sebastián
Local Country Name: Donostia-San Sebastián
Capital City of K: Donostia-San Sebastián
Population of K: 185.510
Territory: 60.89 sq km

K flag on sale, Flagsonline presents the San Sebastian flag, buy now the flag of Donostia-San Sebastian