Kingdom of France 1632 flag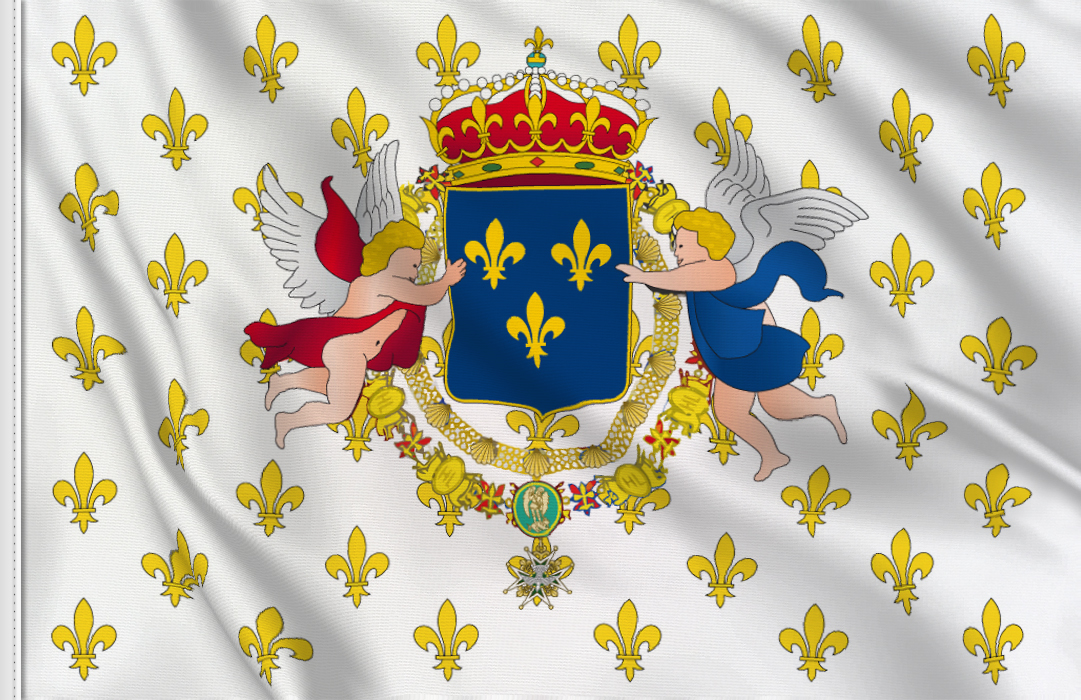 Buy the flag
Description
Flag of the Kingdom of France. This royal banner and flag status was introduced in 1632 as the insignia of supreme commander of the navy of the Kingdom of France, then reserved for the king. Recovery was abolished in 1790 by Louis XVIII April 14, 1814 as a royal banner at sea. Finally abolished in 1830. The white background, without arms, usually studded with golden lilies, was introduced to the 1598 by Henry IV. The design of the emblem of state, corresponding to medium-sized weapons, he was the implementing complicated and expensive, often subject to variations. The shield was supported by two angels, often infantile appearance (possibly due to a design commissioned by the Louis XIV in 1689), surmounted by the crown with or without red lining and surrounded by collars of the Orders of St. Michael and the Holy Spirit.
Available versions of the flag of Kingdom of France 163
100% nautical polyester flags
Kingdom of France 1632 flag in 100% nautical polyester - HIGH QUALITY FLAG
| | | | |
| --- | --- | --- | --- |
| Kingdom of France 163 Flag | Size | Q.ty | Unit Price |
Embassy of Sudan in Netherlands - The Hague Olanda (rate: 4/5)
Hi, Sure I will think about you, cause you have almost the best flags in the world :-). Nice to hear from you Hope to keep in touch. Warmest regards
J-Emmanuel Brethomé - Beaulieu-Sous-La-Roche Francia (rate: 5/5)
Thanks to Flagsonline for helping me to build the beautiful northern Vendée flag. The flags have a great standard quality. I recommend this company.
B.L. - Jakarta Indonesia (rate: 4/5)
It's my first time buy from flagsonline. The order needed few days because my order is not in their stock. There was some trouble in the shipment concerning the my local post office but Flagsonline team especially Alessandro helped me always. And when I received it.... Wow it is worth to be waited.. The flag with its materials is superb..
People interested in B flag have also bought
Flag of the Kingdom of France. This royal banner and flag status was introduced in 1632 as the insignia of supreme commander of the navy of the Kingdom of France, then reserved for the king. Recovery was abolished in 1790 by Louis XVIII April 14, 1814 as a royal banner at sea. Finally abolished in 1830. The white background, without arms, usually studded with golden lilies, was introduced to the 1598 by Henry IV. The design of the emblem of state, corresponding to medium-sized weapons, he was the implementing complicated and expensive, often subject to variations. The shield was supported by two angels, often infantile appearance (possibly due to a design commissioned by the Louis XIV in 1689), surmounted by the crown with or without red lining and surrounded by collars of the Orders of St. Michael and the Holy Spirit. Formal Country Name: Kingdom of France
Local Country Name: Royaume de France
Capital City of B: Paris
Population of B: -
Territory: -

B flag on sale, Flagsonline presents the Kingdom of France 1632 flag, buy now the flag of Regno di Francia 1632