Chilean flag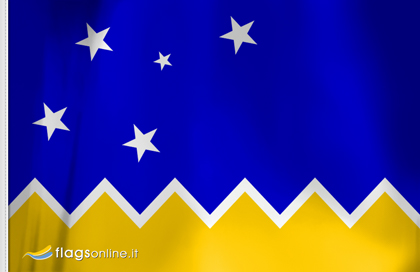 Buy the flag
Description
The Chilean Antarctic Territory flag. The area is claimed by Chile as part of its territory and partly overlaps with the claims Argentine and those of the United Kingdom (British Antarctic Territory). The region of Magallanes and Chilean Antarctica has its flag adorned with the Southern Cross.
Available versions of the flag of Chilean Antarctic Territory
100% nautical polyester flags
Chilean flag in 100% nautical polyester - HIGH QUALITY FLAG
| | | | |
| --- | --- | --- | --- |
| Chilean Antarctic Territory Flag | Size | Q.ty | Unit Price |
A.C. - Rochester (NY) USA (rate: 5/5)
Thank you for all your help in getting this order in place! The flags safely arrived yesterday ... and will be ready for the October 6 parade! Thank you for your assistance.
Y.G. - La Chaux de Fonds Svizzera (rate: 5/5)
Hello, We received the flag and its accessories. We are delighted with your service. Best regards.
J-Emmanuel Brethomé - Beaulieu-Sous-La-Roche Francia (rate: 5/5)
Thanks to Flagsonline for helping me to build the beautiful northern Vendée flag. The flags have a great standard quality. I recommend this company.
People interested in Y flag have also bought
The Chilean Antarctic Territory flag. The area is claimed by Chile as part of its territory and partly overlaps with the claims Argentine and those of the United Kingdom (British Antarctic Territory). The region of Magallanes and Chilean Antarctica has its flag adorned with the Southern Cross. Formal Country Name: -
Local Country Name: -
Capital City of Y: -
Population of Y: -
Territory: -

Y flag on sale, Flagsonline presents the Chilean flag, buy now the flag of Territorio Cileno Antartico